Rents in Dallas decreased 0.5 percent month-over-month and are down by 2.6 percent since the start of the pandemic in March, according to an analysis by Apartment List.
Year-over-year rent growth in Dallas currently stands at -2.6 percent, compared to 1.3 percent at this time last year, according to Apartment List's rent report covering October. 
Median rents in Dallas currently stand at $981 for a one-bedroom apartment and $1,176 for a two-bedroom, said Igor Popov, chief economist for Apartment List.
"As the COVID-19 pandemic and its ensuing economic fallout continue to overwhelm renters across the country, our monthly rent estimates paint the picture of a protracted national slowdown and uneven recovery," Popov wrote in an email to the Dallas Business Journal.
Nationally, rents have fallen 1.4 percent year-over-year, but there is extreme regional variation, Popov said. San Francisco and New York City continue to lead the nation in pandemic rent drops.
As rents have fallen significantly in Dallas, a few other large cities nationwide have seen prices increase, in some cases substantially. Dallas is also more affordable than most similar cities across the country.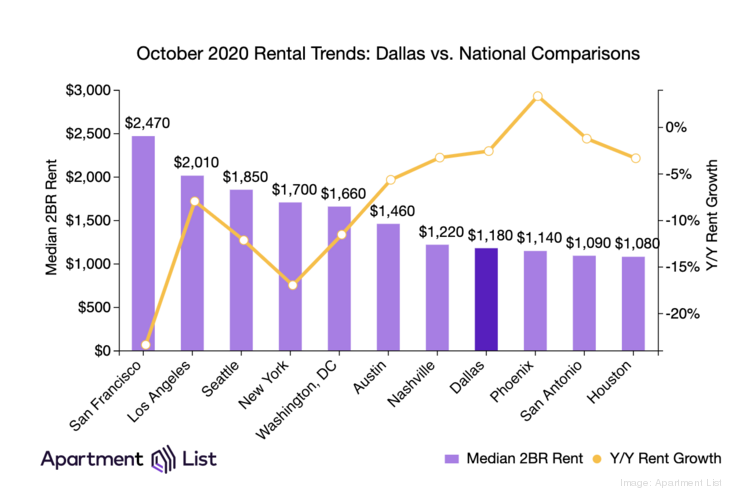 While rent prices have decreased in Dallas over the past year, the rest of the DFW metro is seeing varying rent trends. Of the largest 10 cities that Apartment List had data for in DFW, half have seen increases, while the other half have been decreasing.
Arlington has seen the fastest rent growth in the metro, with a year-over-year increase of 6.2 percent. The median two-bedroom there costs $1,238, while one-bedrooms go for $1,015.
Plano has the most expensive rents of the largest cities in the Dallas metro, with a two-bedroom median of $1,513. Rents decreased 0.3 percent in Plano over the past month and 1.7 percent over the past year.
Fort Worth has the least expensive rents in the metro, with a two-bedroom median of $1,125. Rents fell 0.2 percent over the past month and 0.8 percent over the past year.
The median rent for a two-bedroom apartment in various North Texas cities and the year-over-year percentage rent change are as follows:
— Plano, $1,510, down 1.7 percent
— McKinney, $1,360, up about 2 percent
— Carrollton, $1,340, down 2 percent
— Irving, $1,310, down roughly 2 percent
— Mesquite, $1,260, up roughly 3 percent
— Grand Prairie, $1,2150, up roughly 3 percent
— Arlington, $1,240, up 6.2 percent
— Garland, $1,220, up more than 1 percent
— Dallas, $1,180, down 2.6 percent
— Fort Worth, $1,120, down 0.8 percent.